A LEADER IN PRECISION INJECTION MOLDED POLYMER OPTICS
LED Lenses:
Most Important part of any lighting device is uniformity of Light, it means illumination on the ground or Area to be light should be uniformly lighten up. But when we think about Light distribution with desired uniformity then it is only possible with a  Secondary Optics. Optics's in-house Optics Design Team is deigning the Lenses with various specification & market requirement such as designing of Free Form Lens, TIR Lens, Aspheric / Spherical Lens or any shape of optics to meet Asymmetric or Symmetric Light Distribution. We are using Trace Pro and Zemax software for Ray Tracing & Simulation of LED Lens Design. Simulation result helps us to understand Lens behaviour with Particular LED & Optimize the Optics (if required) to meet desired result of Lens. Our Optics Design Experts allow us to have a special edge to present our self as unique optics manufacturer in Domestic and International Market.
Dialux Analysis is a tool which helps to define Light Installation Matrix & its virtual Light Distribution Pattern. This Tool is mainly used for outdoor Lighting Analysis & Suggest right suitable Optics for lighting distribution requirement. Our team is well trained & experienced to do Dialux Analysis for specific requirement of customers or projects.  We can share Dialux Analysis report of Lens on request.
Imaging Polymer Optics:
Polymer is a Lens where surface profiles are not portions of a sphere or cylinder.
The Asphere's more complex surface profile can reduce or eliminate spherical aberration and also reduce other optical aberrations such as astigmatism, compared to a simple lens. A single aspheric lens can often replace a much more complex multi-lens system. The resulting device is smaller and lighter, and often cheaper than the multi-lens design.
Polymer Lens are used for Imaging Purpose, it also can be used for Virtual Realty which is widely used now days for 3D Experience. Small molded Aspheres are often used for collimating diode lasers.
Application
Biometric
Imaging
Low End Cameras
CCTV Lenses
Google Virtual Reality Lens(VR)
Biomedical
Automobile
Surveillance
We manufacture different types of Aspheric lens in different focal length as per Aspheric equations & Spherical lenses as per drawings. Dimensions from 3mm to 150mm. Material used – PMMA, PC, Zeonex etc.
Our sister concern Gaggione, France having more than 45 years of experience in the line and Optica around 35 years. On the whole we have around 80 years of experience.
Optica is working every customer as a partner from concept to design to prototype to mold development to manufacturing to product qualification. We take pride in giving a complete solution that meets customer requirements.
Optica specializes in specifying the molds and tooling that will be used to make the polymer optics component. We work closely with our clients to:
Understand their application
Reduce risk
Evaluate tolerances
Establish quality metrics
Build a mold that will consistently deliver uniform optical components
DFM Sharing

Diamond Turning Facility for make lens mold inserts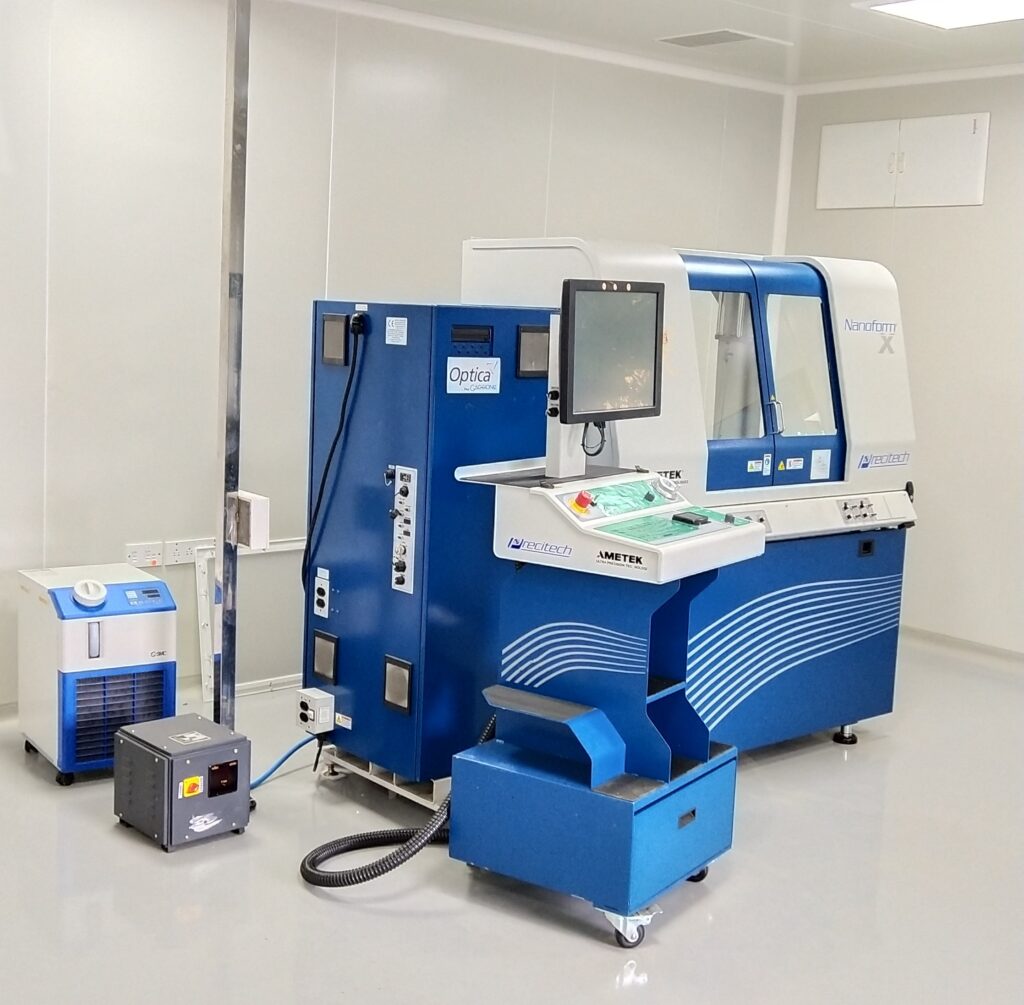 4. Production/Injection Molding
We have molding machines ranging from 30T to 350T and can mold part sizes from 2mm-300mm. We have complete production capability with routine programs from thousands to millions of parts per year. The automation on our presses can be customized to maximize efficiency with compromising on product quality and minimize handling costs.
We have extensive experience in molding materials such as:
PMMA(Acrylic)
Polycarbonate(PC)
ABS
Polyetherimide(PEI)
Zeonex
5. Testing - Quality and Metrology
All manufacturing is supported by our modern on-site metrology lab. Optica places heavy emphasis on quality and has developed a highly trained quality team that provides feedback to our production engineers. All programs are subject to rigorous quality standards to ensure consistent, reliable performance. Upon request, we offer acceptance, qualification, and inspection report, we have the capability to perform IQ/OQ/PQ.
Range: X=700, Y=900, Z=500 with ceramic body
Vast-G-D1-ProHead
Calypso measuring and analytical software
LC=0.0008mm
Zeiss CMM Prismo can deliver results of any kind of measurement with 0.8micron accuracy. Also, Vast Gold pro head can deliver contact scanning at highest All kind of curve free form GD&T can be analyzedusing Calypso. Comparative scanning / Measurement can be performed taking any neutral platform 3D model.
Ultra precision surface and form measuring for high accuracy measurement.
Ultra software for form and surface analysis
Form Analysis
Ultra-Contour Analysis
Talymap 3D Analysis
Specification:
Traverse length – X Max / Min 200mm / 0.1mm with 0.125μm straightness
Measuring speeds1– 0.1mm/s, 0.25mm/s, 0.5mm/s & 1mm/s
Straightness error [Pt] [X=length]2– 125nm/200nm
Resolution [Z]3– 0.8nm @ 12.5mm range
Range to resolution ratio3– 15,625,000 : 1
Calibration Pt7 – 0.2μm
Form removal options:
Datum
LS Line
MZ Line
LS Arc
LS Arc absolute
LS ellipse / hyperbola
Angle accuracy: up to 0.05°;
Photometer head: CLASS L(f1'≤1.5%) or CLASS A (f1'≤3.0%),Pre-amplified and constant-temperature.
The measuring range of illuminance: 0.0001lx—200klx;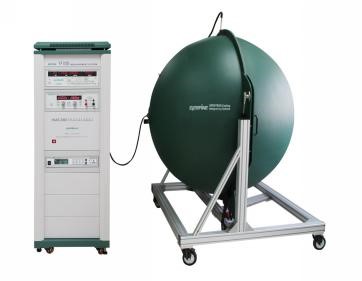 The Integrating Sphere is an Optical Component consisting of hollow Spherical Cavity with its interior covered with diffused white reflection Coating, with Holes for Entrance and Exit of light. Integrating spheres are highly reflective enclosures that are placed in close proximity to the sample, such that the reflected light enters the sphere, bounces around the highly reflective diffuse surface of the sphere wall and finally impinges upon the detector – usually part of the integrating sphere assembly. The name, integrating sphere, refers to one of the main functions of the device, namely that it spatially integrates the light flux, in our application the light that is reflected from a sample.
Optics and Allied Engineering Pvt. Ltd. is an established Indian company since 1985. Our focus has been on global customers in the areas of Polymer Optics and Precision Optics.
We are an ISO 9001-2015 Certified company.
Optica is recognized as one of the leading manufacturers of custom designed injection molded polymer optics. Every day we work with program leaders on complex optical challenges by providing polymer optics designed specifically for improving our customers' market share and competitiveness. We have been providing innovative solutions, including custom injection molding and single point diamond turning, to companies with precision polymer optic requirements. We can produce injection molded aspheric lenses and free-form lenses, and mirrors, as well as Fresnel and diffractive optics.
Optica manufactures precision polymer optics for LED Lighting(LED Lens, LGP, LED/LCD Backlight), Imaging(Bio-Metric, Virtual Reality, Machine Vision, Augmented Reality, etc.)  Applications etc.
The various markets we support include Green Lighting, Medical Device, AR/VR/HUD, Defense, and Machine Vision. Our Application Engineers work closely with our customers to optimize the component design as per specification for cost-effective  & quality product manufacturing. Optica has in-house capability to provide scientific injection molding, optical coating, prototyping, SPDT, metrology, and assembly, which allows us to deliver quality products and services on time.
Streetlight / Downlight / Floodlight / Narrowbeam Light / Torch Light / COB Glass Light